Adaptive Sports Foundation Wine Tasting Event Held at Windham Fine Arts Gallery
December 28th at Windham Fine Arts, sponsors Art and Wine Auction to benefit the Adaptive Sports Foundation—our 15th year! Adaptive provides the necessary lessons and equipment for teaching disabled individuals how to participate in ski sports. Windham Fine Arts proudly hosts Adaptive's incredible team and support system from 6:00 – 9:00 p.m. at Windham Fine Arts, 5380 Main Street, Windham. All proceeds from this event will go to support programs for disabled children and adults.
This winter evening includes a wine tasting conducted by Michael Albin & his team from Hudson Wine Merchants. Hudson Wine Merchants specializes in hand-selected wines from many regions around the world, and their massively talented vignerons and distillers working today are known for bottling only the finest. There will be a sampling of hors d'oeuvres served from restaurant Bistro Brie and Bordeaux, who's head chef brings the recipes of French delicacies right to Windham.
Marika Vida will be the auctioneer and Master of Ceremonies for the evening. She has been one of the most in-demand, highly respected wine professionals ever since her emergence in the business. She started her career in the competitive wine-auction world, honing her skills and knowledge as Marketing Director for prestigious Sotheby's and was Cellar Manager for premier New York retailer, Morrell & Company. Over the years, she has served as Wine Director of the Ritz-Carlton New York, Central Park, Sommelier for the Philadelphia Ritz Carlton, and the list goes on.
To wrap up the night, there will be a bourbon tasting followed by a performance by Slam Allen, an internationally acclaimed retro-singer, guitarist and entertainer who uses the genres of Blues, Soul, R&B, and a touch of Rock and Roll to deliver powerful soul stirring performances! Slam captures you with a voice that echoes legends such as Otis Redding and Sam Cooke, while simultaneously providing a fresh and energized style with his stage presence and skillful guitar playing.
To Purchase tickets, click this link or go to https://www.adaptivesportsfoundation.org/ways-to-give/fundraising-events/wine/
Windham Fine Arts, 5380 Main Street, Windham, NY.  Gallery Hours: Friday & Saturday 12-7pm, Sunday 12-4. Contact: director@windhamfinearts.com.
For the Love of Art Holiday Show at Windham Fine Arts
On December 8th, 2018 from 5:00pm to 7:30pm, Windham Fine Arts hosts the Holiday Show Artists' Reception featuring snowy landscapes of the Catskills with music presented by renowned guitarist, Cue Gerhards.
For the Love of Art is an uplifting show of beautiful works of passion and possibilities. Each painting tells a story and conveys why the gift of art is the best gift to give. Paintings in mixed media, oils and acrylics, sculptures, photography, and local scenes await you. Mara Lehmann unveils her newest collection of the Catskills—snowy landscapes, starry nights, and winter wonderlands; each are awe inspiring.  Kevin Cook joins us with his latest works influenced by the great American painter, George Inness. Shimmering with color and feeling, Kevin's paintings capture nature and its mystique. Velvet Skies, a painting of NYC in the snow, by Joseph Keiffer simply grabs you.  With additional works of vivid and stunning imagery of the Catskills, Joseph is at his finest this holiday. Mireille Duchesne stuns with abstract paintings of winter skies, creeks, and ponds.   Artwork is also available from our many esteemed artists including John Greene, Adam Colangelo, Tom Key, Kim Do, Olive Farrell, Lisbeth Firmin, and Maya Farber.
Windham Fine Arts looks forward to seeing you on December 8th to share our love of art.
Windham Fine Arts, 5380 Main Street, Windham, NY.  Gallery Hours: Friday & Saturday 12-7pm, Sunday 12-4. Contact: director@windhamfinearts.com.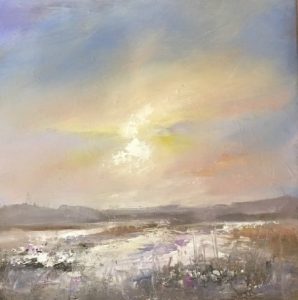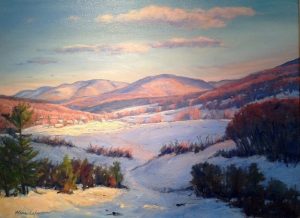 Now Showing Susan Cushin's Paintings Featuring Windham Scenery
Susan Cushin's first interest in art can be credited to her art teacher who inspired her. Painting and creating art pieces has been intermittent since that time however. Between taking time off to go to medical school and complete her residency in radiology, another visual endeavor, Cushin never forgot her passion for art. She began to paint more skillfully with watercolor, later switching to oil paint. When she and her husband started to visit the beautiful Catskills more regularly, she realized that painting the stunning landscapes excited her the most.  She loves being one with nature, capturing the light and atmosphere in the authentic form of a painting. Photographing the Catskills and parts of the countryside in Upstate New York when she is on vacation feeds Susan the inspiration for her studio work. She continues to improve her painting by taking classes and attending painting workshops. Cushin is a member of the Windham Arts Alliance, the Scarsdale Art Association, and Rye Arts Center. She has won awards for her artistry in painting including juried art shows.
Windham Fine Arts is excited to present Susan's beautiful paintings of some of the most beloved landmarks in Windham.
Windham Fine Arts, 5380 Main Street, Windham, NY.
Gallery Hours: Friday & Saturday 12-7pm, Sunday 12-4 and by appointment.
Contact: director@windhamfinearts.com
Website: www.windhamfinearts.com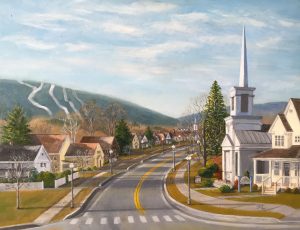 Cue Gerhard's Guitars at Windham Fine Arts Gallery
Robert Cue Gerhards has garnered a number of skills in his 40 years of being a woodworker, finisher, luthier, and musician. His impact on the arts industry can be greatly attributed to his custom-made guitars, each one being an envisioned design by himself and his customers. Cue's expertise includes his use of exotic and artistic color combinations and finishes that have made his work iconic. Cue has provided his prowess to renowned American luthiers such as Stuart Spector, Fodera, Veillette, Tobias, and many more. Along with designing the stunning guitars, his musical experience has enabled him to create the customer's perfect, desired sound. The fine craftsmanship that goes into every one of "Gerhards Guitarswork" guitars supports a lifetime warranty.
Collaborating with Cue Gerhard on this solo guitar is Ron Williams, founder of RONZWORLD. Williams is an artist who has carried his passion for painting to the world of music. Williams hand paints every guitar he works with and no guitar is exactly like the other. Ron has used his artistry to raise funds for charitable organizations including Cancer Sucks, Wounded Warrior Project, Animal Rescues, and more. Having worked as an Executive Creative Director for some of the world's top advertising agencies has led Ron to his success and served as inspiration for his personally designed instruments.
Windham Fine Arts is honored to present Williams and Gerhard's one-of-a-kind works, crafted right here in Windham, New York.
Windham Fine Arts, 5380 Main Street, Windham, NY.
Gallery Hours: Friday & Saturday 12-7pm, Sunday 12-4 and by appointment.
Contact: director@windhamfinearts.com
Website: www.windhamfinearts.com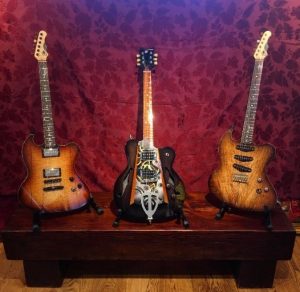 Art Opening Windham Fine Arts
Saturday, September 1st
Opening September 1st, Windham Fine Arts presents two new art shows:  Copper, Clay and Steel in the North Gallery; Figures and Places in the South Gallery.  The Artists' Reception follows on Saturday, September 15th, 5:00 to 7:30pm.
Copper, Clay & Steel
It's a love affair that began in his grandfather's workshop, says Adam Colangelo, experimenting with scraps of copper during his formative years.  In the years since, Colangelo has created signature pieces in copper producing patinas and finishes so rich in detail, causing one to pause.  Lisa Battle crafts distinctive abstract sculptures by hand building them with stoneware clay. Inspired by patterns created through wind, water and motion, each piece is pit and wood kiln fired replicating the texture and subtleties of nature.  While steel is hard, Richardo Arango tames it producing abstract pieces both large and small and in color, demonstrating the diversity of this powerful medium.
Figures & Places
Lisbeth Firmin, captures the light and energy of a specific moment in time.  Capturing the relationship between people and their urban environment, Lisbeth rides the line between abstraction and realism.  Mireille Duchesne sparks emotion with her earthy yet sensual glimpses of life. As does Sonia Schories, a master sketcher, she captures people in motion and engaged in thought amid daily life.   Sonia goes beyond the physical features to capture the personalities of her subjects.   Finally, Leila Yassami takes us on a journey of reflective individuals and cultures.  Her work brings to fore the three-dimensional effect of working with live models.
Show Opening: Saturday, September 1st
Artists Reception: Saturday, September 15th, 5:00 – 7:30 pm
Gallery Hours: Friday & Saturday 12-7pm, Sunday 12-4 and by appointment.
Contact: director@windhamfinearts.com
www.windhamfinearts.com