Finding Flow
Immerse yourself.
It is our pleasure to announce a group show, Finding Flow, coming to Windham Fine Arts May 25, 2019. Artists Lisa Lebofsky, Joseph Sampson, Michael Toole, Adam Colangelo, Anne Johann and Paul-Emile Rioux will join forces to explore the ever-fickle nature of water in all its forms, be they subtle and serene or intense and breathtaking. In this show, we experience the literal and figurative meaning of "Flow", defined as the psychological state of being "fully immersed in a feeling of energized focus, full involvement and enjoyment in the process…" Join us for the opening reception May 25th from 5-7:30 pm and immerse yourself in the flow.
The trio of Canadian artists known as the Workman Collective, including two names you might already know here at the gallery, will be showing together in what is their first gallery-represented show in the United States as a group. Michael Toole, whose unique process and vision invite the viewer to explore things from entirely new perspectives, will show works that evoke a playful exploration of water. From studies at the beach to reflections turned on their head, you will surely find yourself absorbed by the intriguing images of Toole. Another gallery favorite, Adam Colangelo will show a series of what he has named "living landscapes". Including visual references we all know, his grid-like abstractions remain loose and evocative enough to allow the viewer to immerse themselves in the imagery, reflecting into it their own relationship with the world around them. Allow the vibrant blues and sandy golds of Colangelo's work to wash over you as the ocean waters would wash over the shoreline. Rounding out the trio, Joseph Sampson will take part in his debut show at Windham Fine Arts, treating us to his large-scale and evocative waterscapes. Using his imagery to explore the dichotomy between movement and immobility, these pieces depict the varied spectrum of all that water can represent, ranging from tranquil to angry and exploring every mood and tone between. Being of such grand scale, Sampson's work invites you to step closer and become immersed in the momentary sensation of standing at water's edge.
Additionally, Lisa Lebofsky will bring her plein air waterscapes to the gallery. Having shown with Windham Fine Arts in 2012, this nomadic artist has spent the years since traveling extensively to far off locales, including Newfoundland, seeking the subjects of her work; both the susceptibility of nature and the transience of the scenes play across the image in a push and pull of light, dark, opaque, transparent, real, and abstract, forcing us to confront the dichotomous nature in the world around us as well as in ourselves. Joining Lisa will be another Canadian artist, Paul-Emile Rioux. Rioux will challenge our perceptions and experiences with his mind-bending and unconventional digital images, disrupting our reality and experience with art by constructing believable and yet equally unrealistic imagery intended to provoke and inspire, while raising questions about our own reality and our own interactions with the world around us. Last but certainly not least, Anne Johann will return to the gallery with her vibrant-hued studies of tidal pools, showing us yet another side of water and its ability to mirror everything in and around it in new and surprising ways. This Hudson Valley native is so fascinated by the myriad qualities of water that it is included in almost every painting she creates, most especially capturing that ever-changing place where water and land meet.
Join us at Windham Fine Arts on May 25th from 5-7:30 pm for the opening reception of "Finding Flow" and dive into the imagery of this collection of talented artists each exploring in their own unique way the mesmerizing qualities of water.
———–
Ruby Reichardt, Matt Horner, and Ilona Sochynsky Featured at Windham Fine Arts
It's 2019 and WFA is ringing in the New Year by welcoming two new and talented artists – Ruby Reichardt and Matt Horner.   Ruby and Matt's work will be accompanied by Ilona Sochynsky and our existing winter show.  The colorful abstracts juxtaposed with the organic lines of stone sculpture will kick off an exciting year at WFA.
Born in the Netherlands, Ruby Reichardt moved to New York in 1984 to begin her journey as an artist. After attending Syracuse University and pursuing an MFA in Illustration and Design, Ruby dedicated herself to her art career. Her prowess does not lie with just one style of art; rather she works in a variety of mediums including acrylic, oil, pastel, and collage. Ruby draws inspiration from the environment coupled with her reflection of the human experience and everything it entails—creation, change, joy, loss, dreams, and the passage of time. Each of her pieces captures a unique story, place, or memory with recurring patterns, textures, colors, and images. WFA is exhibiting her oil on paper works at the gallery.

Another newcomer to WFA is Matt Horner, a stone sculptor based out of Keene, NY. This small town nestled high in the peaks of the Adirondack mountains is the perfect source for the locally excavated stones that inspire this native Korean's artistry. This abundantly mountainous landscape translates directly into his works; organic, flowing curves mimic the rivers and streams that he fly fishes and the earthly palette of the stone harkens back to the larger versions that he scales through his work as a licensed rock and ice climbing guide.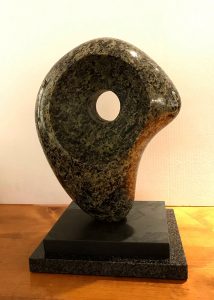 Also spicing up the gallery are Ilona Sochynsky's acrylics on paper. Ilona's style progresses from hyper-realism to abstraction. Her early paintings depict recognizable single images with shiny, industrial surfaces but over time, she reconstructs her original works as uniquely abstract pieces. Ilona acknowledges the inevitability of reflection as a developing artist, detailing the intense scrutiny and introspection. Her current works of art represent an attempt to analyze the ebb and flow of the creative process with the beauty of trying new textures and paints. Undoubtedly, any viewer of Sochynsky works will be fascinated and mesmerized by her one-of-a-kind models.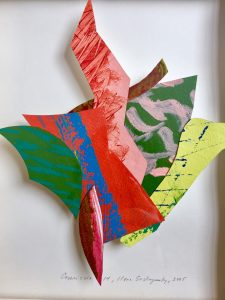 ———–
Francisco Roldán and Guitar Music of Latin America at Windham Fine Arts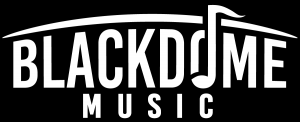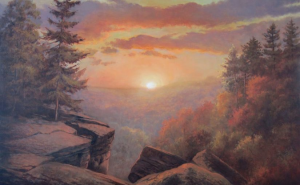 On January 19th, Windham Fine Arts Gallery hosts Blackdome Presents featuring Francisco Roldán, a classical guitarist from Columbia who currently lives in New York City.  Francisco Roldán performs nationally and internationally as a soloist, with chamber ensembles, and with orchestras.  He has performed in the U.S., Portugal, Greece, Russia, Colombia, Argentina, the Dominican Republic, and more.  His venues include concerts at for Lincoln Centers' programs, the Metropolitan Museum of Art, and the Smithsonian Library. Roldán has been entertaining audiences since his early years at the Mannes College of Music, where he attained his master's degree.  His successful career as a soloist launched in the spring of 1993, when he performed a New York debut recital at Carnegie Hall.
Blackdome Music Festival is sponsoring the evening:  https://www.blackdomemusic.com/winter2018-19/.  Yako Stavrolakes, Founder of Blackdome, worked over 18 years in the music industry, from artist management, to working with concert presenters, music festivals, and renowned artists.  After experiencing the music industry from all different angles, Yako decided to create something of his own, combining his various interests into a music festival in the picturesque setting of the Catskill Mountains.
Windham Fine Arts is pleased to be hosting the event on January 19th to commemorate Francisco and the masterful elaboration of Latin American culture in his guitar playing.  The night will consist of a pre-concert reception with wine and cheese from 5:30-6:30, followed by Roldán's riveting performance.  The rest of the evening will leave plenty of time to chat with Francisco and discuss his fascinating background and lifestyle.
Other artists highlighted in the gallery include:  Ruby Reichardt and Kevin Cook.  Ruby was born in the Netherlands and made her way to the states after moving to New York to launch her career.  She will be exhibiting oil on paper works at the gallery.  Kevin Cook is another artist who provides a touch of tonalism to his beautiful landscape paintings of the Catskills.
———–
Adaptive Sports Foundation Wine Tasting Event Held at Windham Fine Arts Gallery
 
———–
December 28th Windham Fine Arts, sponsors an Art and Wine Auction to benefit the Adaptive Sports Foundation—our 15th year!
Adaptive provides the necessary lessons and equipment for teaching disabled individuals how to participate in ski sports. Windham Fine Arts proudly hosts Adaptive's incredible team and support system from 6:00 – 9:00 p.m. at Windham Fine Arts, 5380 Main Street, Windham. All proceeds from this event will go to support programs for disabled children and adults.
This winter evening includes a wine tasting conducted by Michael Albin & his team from Hudson Wine Merchants. Hudson Wine Merchants specializes in hand-selected wines from many regions around the world, and their massively talented vignerons and distillers working today are known for bottling only the finest. There will be a sampling of hors d'oeuvres served from restaurant Bistro Brie and Bordeaux, who's head chef brings the recipes of French delicacies right to Windham.
Marika Vida will be the auctioneer and Master of Ceremonies for the evening. She has been one of the most in-demand, highly respected wine professionals ever since her emergence in the business. She started her career in the competitive wine-auction world, honing her skills and knowledge as Marketing Director for prestigious Sotheby's and was Cellar Manager for premier New York retailer, Morrell & Company. Over the years, she has served as Wine Director of the Ritz-Carlton New York, Central Park, Sommelier for the Philadelphia Ritz Carlton, and the list goes on.
Marika is currently a Wine Educator for the famed Argentine Winery Catena Zapata and she is a member of the Full Circle Sommelier Network, working with Master Sommelier Evan Goldstein on projects for Wines of Argentina, Brazil, Portugal, Soave, and Monterey programs.  She has served on Eric Asimov's Tasting Panel for the New York Times and been featured on Barrons.com for romantic wine picks.
To wrap up the night, there will be a bourbon tasting followed by a performance by Slam Allen, an internationally acclaimed retro-singer, guitarist and entertainer who uses the genres of Blues, Soul, R&B, and a touch of Rock and Roll to deliver powerful soul stirring performances! Slam captures you with a voice that echoes legends such as Otis Redding and Sam Cooke, while simultaneously providing a fresh and energized style with his stage presence and skillful guitar playing.
To Purchase tickets, click this link or go to https://www.adaptivesportsfoundation.org/ways-to-give/fundraising-events/wine/
Windham Fine Arts, 5380 Main Street, Windham, NY.  Gallery Hours: Friday & Saturday 12-7pm, Sunday 12-4. Contact: director@windhamfinearts.com.
———–
For the Love of Art Holiday Show

at Windham Fine Arts
On December 8th, 2018 from 5:00pm to 7:30pm, Windham Fine Arts hosts the Holiday Show Artists' Reception featuring snowy landscapes of the Catskills with music presented by renowned guitarist, Cue Gerhards.
For the Love of Art is an uplifting show of beautiful works of passion and possibilities. Each painting tells a story and conveys why the gift of art is the best gift to give. Paintings in mixed media, oils and acrylics, sculptures, photography, and local scenes await you. Mara Lehmann unveils her newest collection of the Catskills—snowy landscapes, starry nights, and winter wonderlands; each are awe inspiring.  Kevin Cook joins us with his latest works influenced by the great American painter, George Inness. Shimmering with color and feeling, Kevin's paintings capture nature and its mystique. Velvet Skies, a painting of NYC in the snow, by Joseph Keiffer simply grabs you.  With additional works of vivid and stunning imagery of the Catskills, Joseph is at his finest this holiday. Mireille Duchesne stuns with abstract paintings of winter skies, creeks, and ponds.   Artwork is also available from our many esteemed artists including John Greene, Adam Colangelo, Tom Key, Kim Do, Olive Farrell, Lisbeth Firmin, and Maya Farber.
Windham Fine Arts looks forward to seeing you on December 8th to share our love of art.
Windham Fine Arts, 5380 Main Street, Windham, NY.  Gallery Hours: Friday & Saturday 12-7pm, Sunday 12-4. Contact: director@windhamfinearts.com.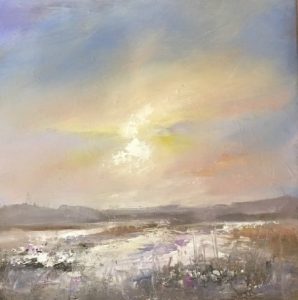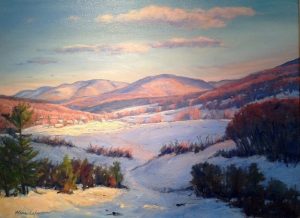 ———–
Now Showing Susan Cushin's Paintings Featuring Windham Scenery
 Susan Cushin's first interest in art can be credited to her art teacher who inspired her. Painting and creating art pieces has been intermittent since that time however. Between taking time off to go to medical school and complete her residency in radiology, another visual endeavor, Cushin never forgot her passion for art. She began to paint more skillfully with watercolor, later switching to oil paint. When she and her husband started to visit the beautiful Catskills more regularly, she realized that painting the stunning landscapes excited her the most.  She loves being one with nature, capturing the light and atmosphere in the authentic form of a painting. Photographing the Catskills and parts of the countryside in Upstate New York when she is on vacation feeds Susan the inspiration for her studio work. She continues to improve her painting by taking classes and attending painting workshops. Cushin is a member of the Windham Arts Alliance, the Scarsdale Art Association, and Rye Arts Center. She has won awards for her artistry in painting including juried art shows.
Windham Fine Arts is excited to present Susan's beautiful paintings of some of the most beloved landmarks in Windham.
Windham Fine Arts, 5380 Main Street, Windham, NY.
Gallery Hours: Friday & Saturday 12-7pm, Sunday 12-4 and by appointment.
Contact: director@windhamfinearts.com
Website: www.windhamfinearts.com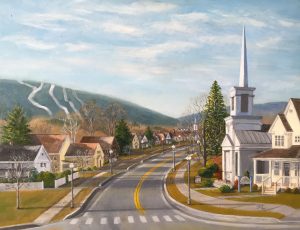 ———-
Cue Gerhards's Guitars at Windham Fine Arts Gallery
Robert Cue Gerhards has garnered a number of skills in his 40 years of being a woodworker, finisher, luthier, and musician. His impact on the arts industry can be greatly attributed to his custom-made guitars, each one being an envisioned design by himself and his customers. Cue's expertise includes his use of exotic and artistic color combinations and finishes that have made his work iconic. Cue has provided his prowess to renowned American luthiers such as Stuart Spector, Fodera, Veillette, Tobias, and many more. Along with designing the stunning guitars, his musical experience has enabled him to create the customer's perfect, desired sound. The fine craftsmanship that goes into every one of "Gerhards Guitarswork" guitars supports a lifetime warranty.
Collaborating with Cue Gerhards on this solo guitar is Ron Williams, founder of RONZWORLD. Williams is an artist who has carried his passion for painting to the world of music. Williams hand paints every guitar he works with and no guitar is exactly like the other. Ron has used his artistry to raise funds for charitable organizations including Cancer Sucks, Wounded Warrior Project, Animal Rescues, and more. Having worked as an Executive Creative Director for some of the world's top advertising agencies has led Ron to his success and served as inspiration for his personally designed instruments.
Windham Fine Arts is honored to present Williams and Gerhards's one-of-a-kind works, crafted right here in Windham, New York.
Windham Fine Arts, 5380 Main Street, Windham, NY.
Gallery Hours: Friday & Saturday 12-7pm, Sunday 12-4 and by appointment.
Contact: director@windhamfinearts.com
Website: www.windhamfinearts.com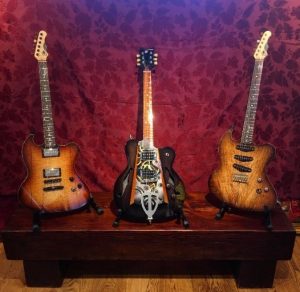 ———–
Art Opening Windham Fine Arts
Saturday, September 1st
Opening September 1st, Windham Fine Arts presents two new art shows:  Copper, Clay and Steel in the North Gallery; Figures and Places in the South Gallery.  The Artists' Reception follows on Saturday, September 15th, 5:00 to 7:30pm.
Copper, Clay & Steel
It's a love affair that began in his grandfather's workshop, says Adam Colangelo, experimenting with scraps of copper during his formative years.  In the years since, Colangelo has created signature pieces in copper producing patinas and finishes so rich in detail, causing one to pause.  Lisa Battle crafts distinctive abstract sculptures by hand building them with stoneware clay. Inspired by patterns created through wind, water and motion, each piece is pit and wood kiln fired replicating the texture and subtleties of nature.  While steel is hard, Richardo Arango tames it producing abstract pieces both large and small and in color, demonstrating the diversity of this powerful medium.
Figures & Places
Lisbeth Firmin, captures the light and energy of a specific moment in time.  Capturing the relationship between people and their urban environment, Lisbeth rides the line between abstraction and realism.  Mireille Duchesne sparks emotion with her earthy yet sensual glimpses of life. As does Sonia Schories, a master sketcher, she captures people in motion and engaged in thought amid daily life.   Sonia goes beyond the physical features to capture the personalities of her subjects.   Finally, Leila Yassami takes us on a journey of reflective individuals and cultures.  Her work brings to fore the three-dimensional effect of working with live models.
Show Opening: Saturday, September 1st
Artists Reception: Saturday, September 15th, 5:00 – 7:30 pm
Gallery Hours: Friday & Saturday 12-7pm, Sunday 12-4 and by appointment.
Contact: director@windhamfinearts.com
www.windhamfinearts.com