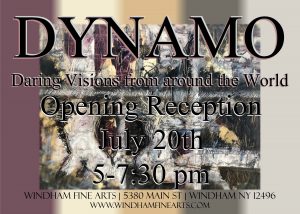 DYNAMO
Opening Reception
July 20th, 5-7:30 pm
On July 20th, join us for the opening reception for DYNAMO from 5-7:30 pm! This compelling and vibrant abstract show will be sure to challenge the senses and inflame the curiosities! Exhibiting returning gallery favorite Satish Joshi as well as our renowned Ruby Reichardt and John Greene.
Also coming up…
Blackdome Music Festival will be presenting the famous BAKITHI KUMALO across the street at the Windham Civic Center on July 27th. Join us afterward for a reception at the gallery! For more information please visit Blackdome Music.
Before it is too late!
Stop in the Gallery during the Independence Day festivities to take one last look at Finding Flow AND to see our newest gallery addition, Alison Stager. Her breathtaking photography will grace the walls through July, so hurry in fast to see them in person!