Clouds and Water
Mireille Duchesne – Solo Spotlight
Opening Reception
Saturday, March 7, 2020 from 5:00 – 7:00 pm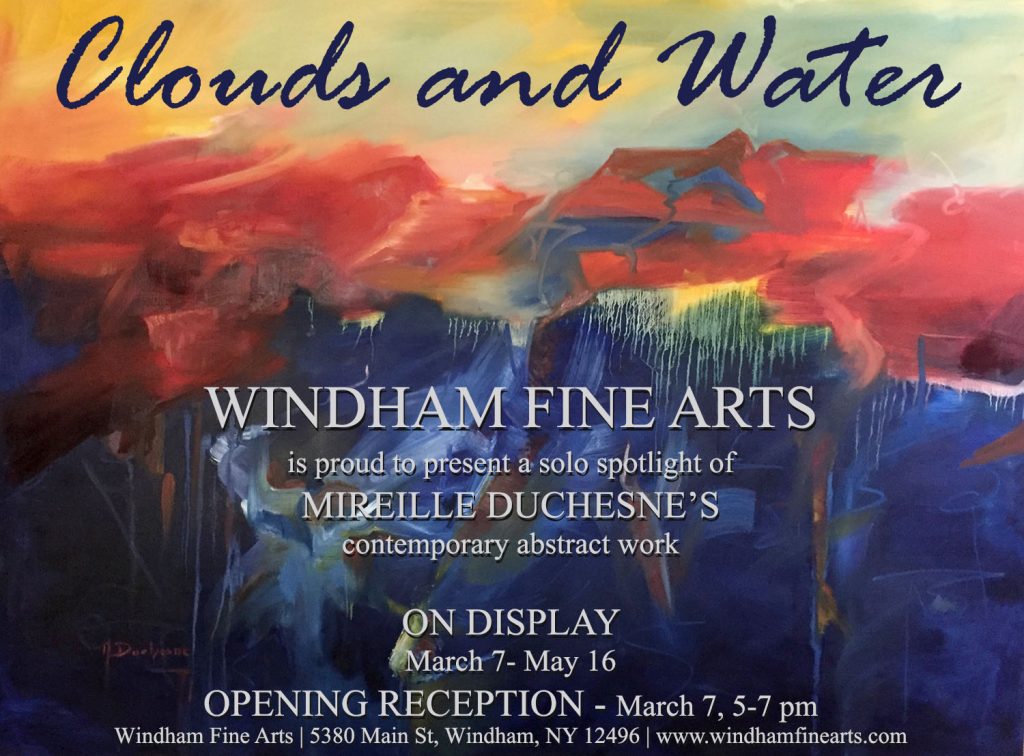 "For as long as I can remember, I always had a pencil or a brush in my hand. Words have never been my medium, painting is," reveals Mireille Duchesne, noting that "painting is my passion, my life."
Born in the Normandy region of France, Mireille grew up surrounded by landscapes made famous by impressionist painters. As a young adult she traveled throughout Europe and Africa in pursuit of adventure and independence. Mireille went on to study French Literature at the Lycee of le Havre and the University of Rouen while also taking classes at the Ecole des Beaux Arts in Paris, Le Havre, and Rouen. Seizing an opportunity for adventure, Mireille moved to New York, NY where she advanced her studies at the Pastel Society of America and took classes at the Art Students League. The precision, detail and intensity of Mireille's style quickly garnered much attention in the art world, resulting in National Exhibitions in Manhattan galleries and beyond.
Mireille paints not from a photo but from her memories. Realism is not her goal. She seeks to reflect the intangibles, the atmosphere, the impression a site gives, the feelings it inspires. Clouds and water are her main source of inspiration. Music too, is always present. The brilliancy of Mireille's work is unmistakable. Her colors glow in the light and have depth in the dark. "I am speaking with my heart in my paintings and if I succeed in sharing my joy of life with the viewer, my goal is accomplished."
Join us for the Opening Reception of Clouds and Water, featuring Mireille Duchesne, with wine and cheese tastings and music too. Saturday, March 7, from 5:00 – 7:00 pm at Windham Fine Arts, 5380 Main Street, Windham. Contact: director@windhamfinearts.com www.windhamfinearts.com
Read the press release HERE for more information!
Une Eclaircie by Mireille Duchesne

Happy Clouds by Mireille Duchesne
In conjunction with our exhibit Embracing Winter Blues
Join us
Saturday, February 15
5:30 – 7:00 pm
Performance by Guitarist Jimi Woodul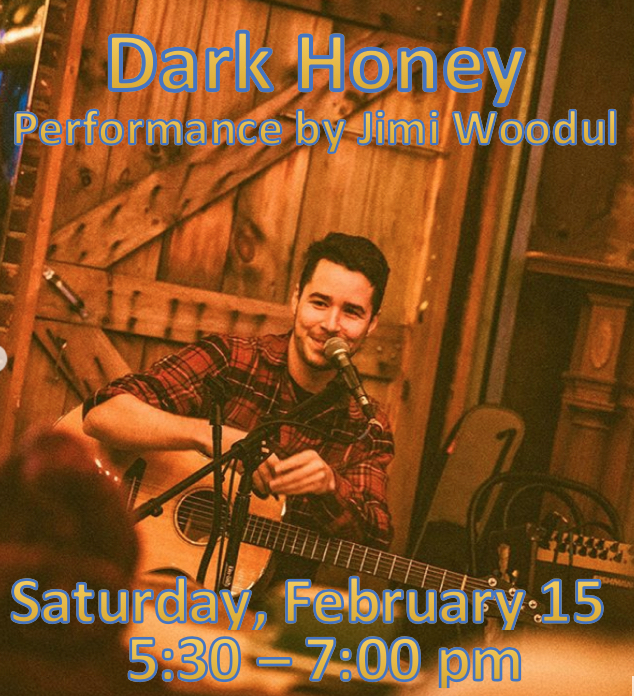 Dark Honey is an alternative rock band from Albany, NY consisting of three brothers and a childhood friend. The evening features the band's lead singer, guitarist and co-founder, Jimi Woodul performing a solo acoustic set. Their lyrically rich songs have been described as introspective and poetic with vocals from Woodul that "master a light, airy sound in one breath which can be raw and gritty in another" (NYS Music). This event is sponsored by Blackdome Music. Please join us this Saturday, February 15 from 5:30 – 7:00 pm at Windham Fine Arts.
Embracing Winter Blues
Anne Johann

Mara Lehmann

Kim Do
"Embracing Winter Blues" showcases new and established artists with captivating styles from impressionism to realism. Featuring celebrated artists Gina Blickenstaff, Kim Do, Anne Johann, Mara Lehmann, Nancy Previs and Ken Salaz, the show is a must-see. Be sure to stop by! Visit our website.
Saturday, January 18, 2020
Reception 5:30 pm
Performance 6:30 pm
Belle Skinner – Pop, Rock & Blues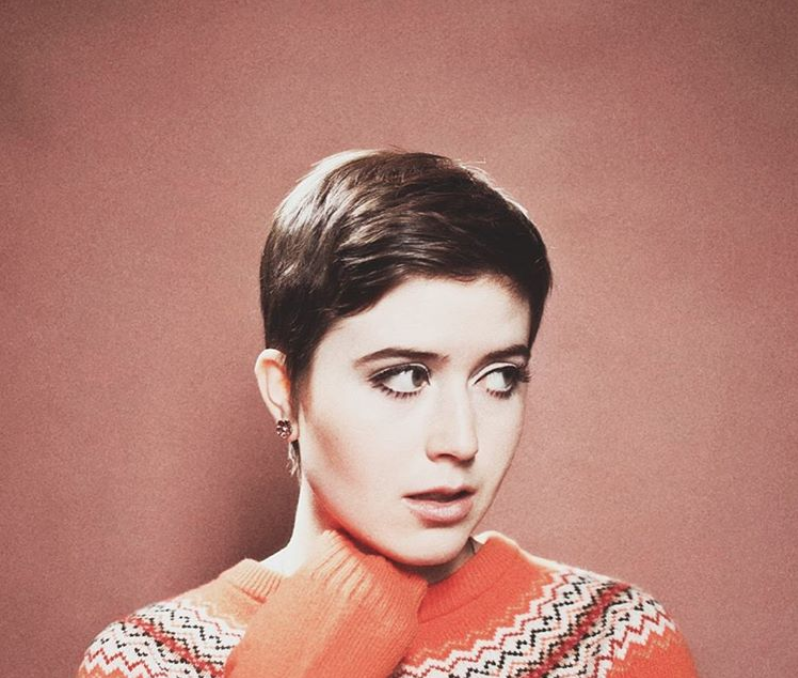 Join us Saturday, January 18 at Windham Fine Arts for the Belle Skinner Performance. Belle Skinner, a nostalgic singer-songwriter with a hauntingly beautiful soprano, covers a broad range of genres – from French chansons and Russian folk to contemporary alt-pop and rock. With an innate sense of melody, Belle crafts tales of songbirds, sirens and desert nomads – nuanced and layered stories which bridge the gap between past and present. In 2013, she was awarded a Maguire Fellowship to study in London, where she recorded her first EP, Operator. Her self-produced album, We Shut Our Eyes, was released in 2016. She is presently working on her third record and debut album. Admission is free and sponsored by Blackdome Music.
Contact: director@windhamfinearts.com, Windham Fine Arts, 5380 Main Street, Windham, NY 12496, 518-734-6850. www.windhamfinearts.com.
Embracing Winter Blues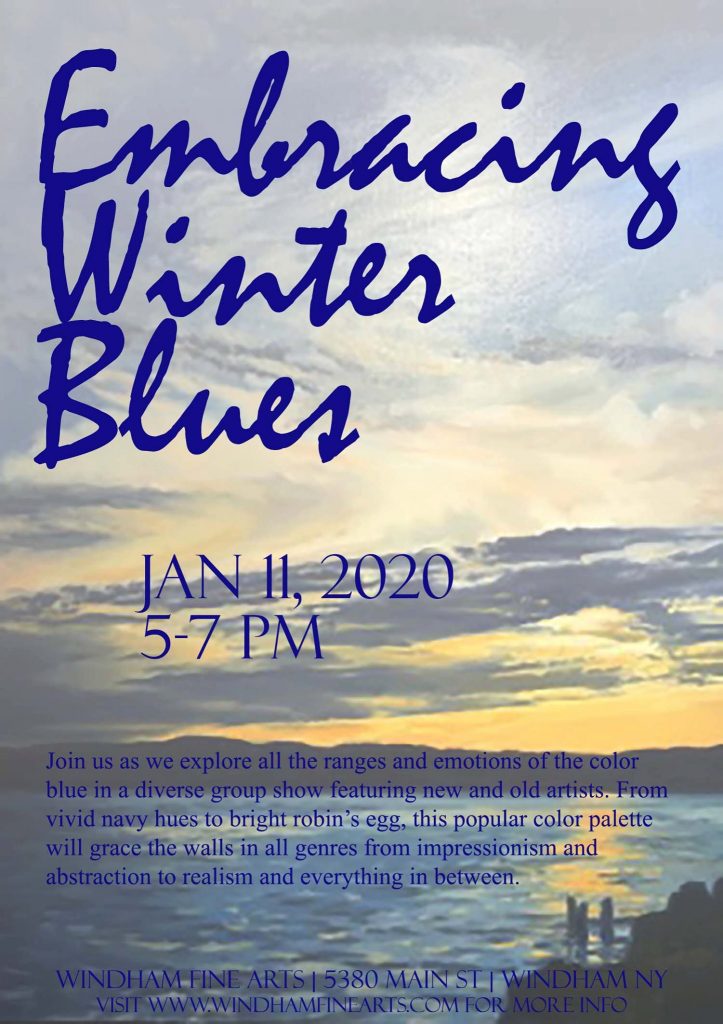 Please join us Saturday, January 11, 2020 from 5:00 to 7:00 pm for the opening reception for our newest exhibition, "Embracing Winter Blues", to explore all the ranges and emotions of the color blue in a diverse group show featuring new and old artists alike. From vivid navy hues to bright robin's egg, this popular and timely color palette will grace the walls in all genres from impressionism and abstraction to realism and everything in between. Whether the color evokes a sense of calm or inspires a steadfast stability in your impression, you will regardless experience first hand why this classic hue was recently named the 2020 color of the year.
Read the press release HERE for more information!
Brief Recap of the 16th Annual Wine Auction Hosted by Windham Fine Arts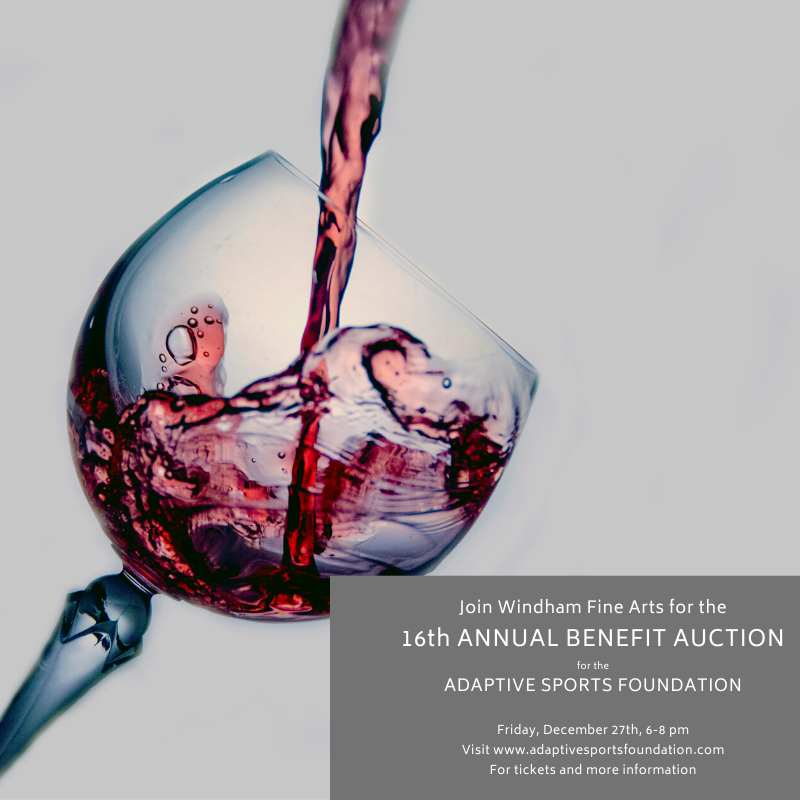 A heartfelt thank you to all those who attended our 16th Annual Wine Auction hosted by the Windham Fine Arts for the benefit of Adaptive Sports Foundation. It was another successful night raising funds and supporting ASF's cause! A special thank you to Ridge Vineyards of California for donating to this event. We would also like to express our gratitude to the Hudson Wine Merchants for hosting and curating the wine tasting and Bistro Brie and Bordeaux for catering the event.
Read the press release HERE for more information!
October – December 2019
Brief Recap of our Opening Reception
Thank you to everyone who attended the reception last Saturday! We had a great art reception filled with great music, wine and even better conversations about art! It was a well-attended event where attendees had the opportunity to meet our featured artists Scott Thomas Balfe, Kevin Cook , Mireille Duchesne and Tatiana Rhinevault! The current exhibition will be on display through the end of December.
Read the press release HERE for more information about the exhibition!