Celebrate Memorial Day Weekend!
Summer Kickoff
We can help you find the perfect piece to start your summer!
Contact: director@windhamfinearts.com or call 518-734-6850
Mother's Day is coming up!
Celebrate Mother's Day
with a unique gift of art
online or by appointment
Warm Afternoon by Mireille Duchesne

Orchids and Magoes by Maya Farber

Radiant Beams of Light by Kevin Cook

Blue by Mireille Duchesne
Do something wonderful for your mom.
We can help you find the perfect gift for every mom in your life!
Contact: director@windhamfinearts.com or call 518-734-6850
We look forward to seeing you!
Clouds and Water
Mireille Duchesne – Solo Spotlight
Opening Reception
Saturday, March 7, 2020 from 5:00 – 7:00 pm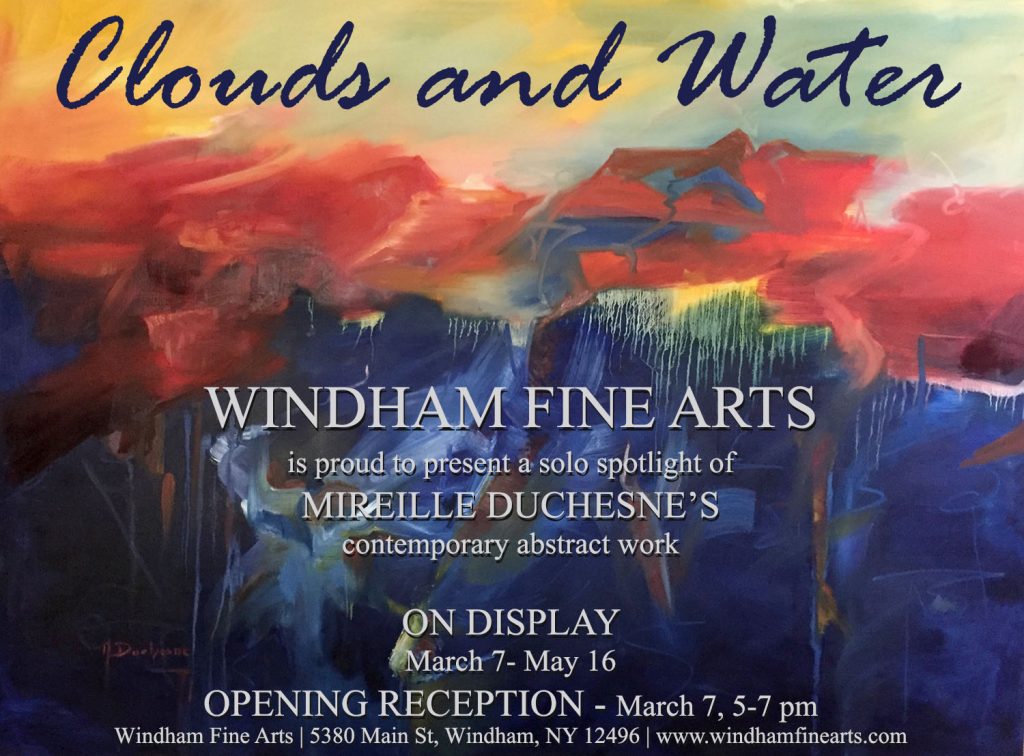 "For as long as I can remember, I always had a pencil or a brush in my hand. Words have never been my medium, painting is," reveals Mireille Duchesne, noting that "painting is my passion, my life."
Born in the Normandy region of France, Mireille grew up surrounded by landscapes made famous by impressionist painters. As a young adult she traveled throughout Europe and Africa in pursuit of adventure and independence. Mireille went on to study French Literature at the Lycee of le Havre and the University of Rouen while also taking classes at the Ecole des Beaux Arts in Paris, Le Havre, and Rouen. Seizing an opportunity for adventure, Mireille moved to New York, NY where she advanced her studies at the Pastel Society of America and took classes at the Art Students League. The precision, detail and intensity of Mireille's style quickly garnered much attention in the art world, resulting in National Exhibitions in Manhattan galleries and beyond.
Mireille paints not from a photo but from her memories. Realism is not her goal. She seeks to reflect the intangibles, the atmosphere, the impression a site gives, the feelings it inspires. Clouds and water are her main source of inspiration. Music too, is always present. The brilliancy of Mireille's work is unmistakable. Her colors glow in the light and have depth in the dark. "I am speaking with my heart in my paintings and if I succeed in sharing my joy of life with the viewer, my goal is accomplished."
Join us for the Opening Reception of Clouds and Water, featuring Mireille Duchesne, with wine and cheese tastings and music too. Saturday, March 7, from 5:00 – 7:00 pm at Windham Fine Arts, 5380 Main Street, Windham. Contact: director@windhamfinearts.com www.windhamfinearts.com
Read the press release HERE for more information!
Une Eclaircie by Mireille Duchesne

Happy Clouds by Mireille Duchesne